Careers

THANK YOU for attending
our Career Fair. 
If you missed the event, you can still apply for any open position by clicking the link below.  Thank you!
PADDOCK CAREER EVENING
Wednesday, September 22  |  6 – 8 PM  |  3247 Delaware Avenue  |  Kenmore, NY
The Management Team at Paddock Chevrolet would like to invite you to our Career Opportunity Evening, Wednesday, September 22.  The event will be held at our Kenmore Conference Building across from our New Car Showroom at 3247 Delaware Avenue, in Kenmore, NY from 6 – 8 pm.
Please bring your resume and speak with our managers about career opportunities we have that you may be qualified for.  No need to RSVP, simply stop by our Kenmore location on September 22 between 6 and 8 pm.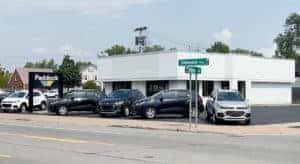 This event will be held in our Conference building which is located cross the street from our New Car Showroom.
You may park in the parking lot at 3247 Delaware Avenue or on the side streets.  Feel free to enter from either door in the building and someone will greet you.
We look forward to seeing you at our Career Evening on September 22nd!
If you can not attend the event, you may apply online and submit your resume by using the link below.
Thank you!
New and Used Sales
Sales Support
Service Advisors
Service Technicians
Customer Service
Finance
Finance Assistant
Billing Specialist
Wholesale Parts
Start your New Career at Paddock Chevrolet
If you're looking for an opportunity to be appreciated and involved in your career, your search is complete. We have a great history of providing excellent career opportunities for sharp, energetic people.
We are always looking for qualified candidates to join our team!