ExpressService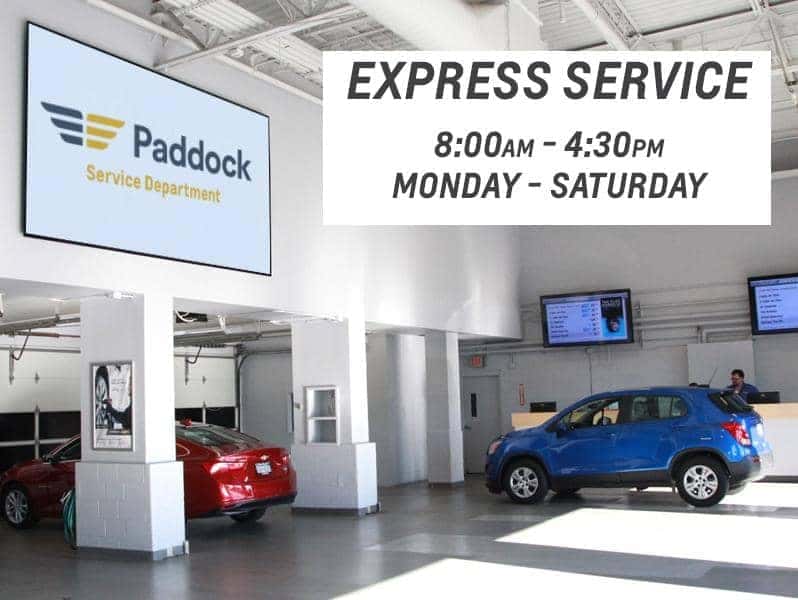 Express Service Provides:
Oil and filter change*.
Tire rotation and tire pressure adjustments (air up tires).
Air filter replacement.
Cabin Air Filter replacement.
Flat Tire repair with approved tire plug.
Fluid Top Off including Washer Fluid.
Lubrication Service (hinges, locks, & OEM lubrication fittings).
Wiper Blade replacement.
*When you schedule an appointment, we guarantee that your oil change will be done in 35 minutes or less. If not, your next oil change is free! Excludes Corvette. Each service is provided individually and charged separately.
ENJOY FAST, HIGH-QUALITY CHEVY EXPRESS SERVICE NEAR WILLIAMSVILLE
Here at Paddock Chevrolet, Inc., we know that the secret to making sure your Chevy always stays in tip-shop shape is high-quality maintenance. Of course, we also know that many drivers in the Williamsville area have busy schedules that can make setting up a much-needed service appointment seem like too much of a task. That's why we offer Express Service here at our dealership. When your vehicle needs a quick freshening up to get it ready for the long road ahead or the short trip to your next appointment, our talented service technicians can get your ride in and out of our shop fast so you can get back to your daily routine. Our Express Services include a variety of maintenance items to help your Chevy perform at its best. From lightning-quick oil changes to filter replacements and flat tire repairs, we're prepared to provide your vehicle with the expert service it needs to hit the ground running. Has it been awhile since your vehicle's last oil change? Do your tires look like they could use a little extra care with an air pressure adjustment or tire rotation? Do your vehicle's fluid levels look a little low? We can take care of all these issues and more so your car, truck, or SUV can feel more like its old self again. Are you ready to get your vehicle the fast, reliable service it needs? Schedule an appointment with our service center near Williamsville today and let our dedicated team of highly-trained service experts handle the rest. Save even more time when you use our online service scheduler! If you'd rather speak directly to a member of our friendly, knowledgeable team, you're always welcome to give us a call or stop by our dealership to set up an appointment or ask questions. Contact us today!