6 Reasons to Choose a Certified Pre-Owned Vehicle
Why Buy Certified?
Buying a used vehicle can turn into quite a stressful process. To alleviate this, General Motors has developed the Certified Pre-Owned Program.  With such a wide range of provided benefits, including two impressive factory-backed warranties and 24-hour roadside assistance, you will feel confidence in your vehicle for years to come.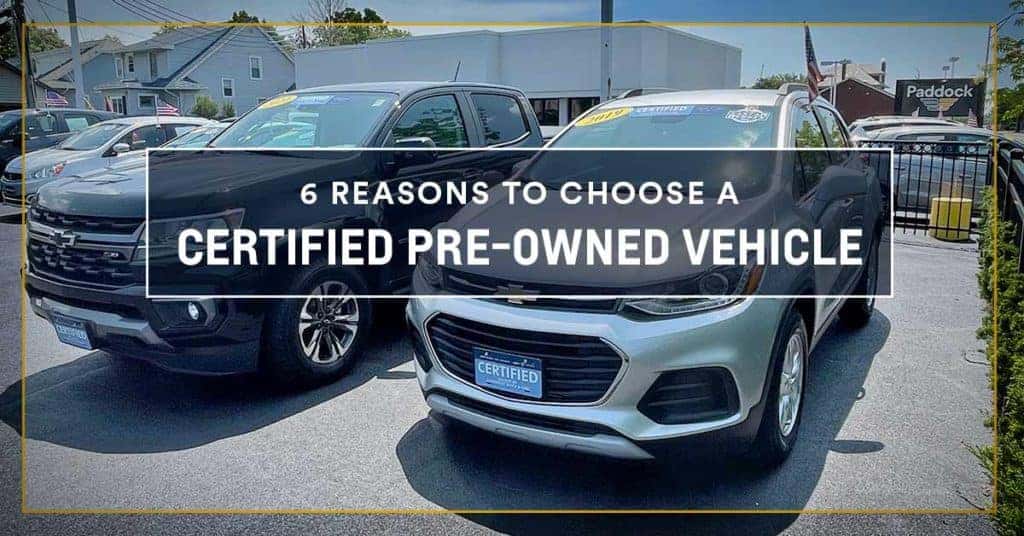 Here are 6 Great Reasons to Choose a Certified Pre-Owned Vehicle.
1)  6-year/100,000-Mile Powertrain Limited Warranty

 
Your engine, transmission, transaxle, transfer case and all of your drive systems are fully covered in the 6-year/100,000-Mile Powertrain Warranty (whichever comes first). 
Engine:  Cylinder head, block, timing gears, timing chain, timing cover, oil pump/oil pump housing, OHC carriers, calve covers, oil pan, seals, gaskets, turbocharger, supercharger, all internal lubricated parts and manifolds, flywheel, water pump, harmonic balancer, and engine mount. Your timing belts are covered until the first scheduled maintenance visit.

 
Transmission/Transaxle/Transfer Case:  Case, all internal lubricated parts, torque converter, transfer case, transmission/transaxle mounts, seals, and gaskets.

 
Drive Systems:  Final drive housing, all internal lubricated parts, axle shafts and bearings, constant velocity joints, axle housing, propeller shafts, universal joints, wheel bearings, locking hubs, front differential actuator, supports, front- and rear-hub bearings, seals and gaskets, input and output shafts, forward and intermediate clutch, direct clutch, bands, governor, thrust bearing, washers, and electronic control units.

 
2)  12-Month/12,000-Mile Bumper-to-Bumper Limited Warranty
The Bumper-to-Bumper Warranty covers any defects in your vehicle's materials/workmanship of the components covered for up to 12 months or 12,000 miles (whichever comes first). The coverage includes parts and labor, and you don't have to worry about paying a deductible for any of the repairs covered. Your warranty is activated the day you drive off the lot. 

3)  172-Point Inspection
Every Certified Pre-Owned vehicle is put through a 172 Point Vehicle Inspection that provides you with a level of confidence you never thought was possible when buying a pre-owned vehicle. This intentionally excessive inspection, conducted by one of our GM Certified Technicians, includes inspecting the vehicle history, performing general maintenance, checking the condition of the tires and brake pads, interior and exterior detailing, a road test, and ensuring any components located in the engine compartment and under the vehicle are in proper working condition. 
CLICK HERE to view the full 172-point Inspection Check List
4)  Courtesy Transportation and 24-Hour Roadside Assistance
For the duration of your 6-year/100,000-mile warranty, you will also be provided with 24-hour roadside assistance and courtesy transportation. With the 24-hour roadside assistance program, you will have access to the following services; emergency towing from a public road or highway, battery jump starts, vehicle lock-out assistance, emergency fuel delivery, and flat tire changes.
5)  3-Day/150 Mile Vehicle Exchange Program
If you are not 100% satisfied within 3 days or 150 miles of your Certified Pre-Owned Purchase, you can drive it back to the dealership to exchange it for another vehicle. 
6)  Scheduled Maintenance Program with two included Maintenance Visits
To top off General Motors incredible Certified Pre-Owned program, they will provide you with two scheduled maintenance visits that include oil and oil filter changes, tire rotations, and multi-point inspections.

Stop by our Showroom today!
The General Motors Certified Pre-Owned Program was designed to give you the peace of mind you deserve when driving off in your new pre-owned vehicle. Stop by and browse Paddock Chevrolet's collection of Certified Pre-Owned vehicles today!
Contact Us
Call 716-876-0945 or click here.
To learn more about Certified Pre-Owned Vehicles at Paddock Chevrolet, click here.
To view our current Certified Pre-Owned Inventory, click here.
For more information on the GM Certified Pre-Owned Program, visit their official site.